Bpost employed an awning to, among other things, prepare the delivery of parcels for further transport. Bpost wanted to avoid their parcels getting wet at all times, which would cause damage. 
Testimonial bpost  
"Since last year, we have employed our awning where, among other things, we prepare the delivery of our parcels for further transport. 
Because wind and rain hit it straight on, we had to find a solution. 
Bpost stands for quality, and wants to avoid the packages getting wet at all times. That's how we ended up with the specialists in the field: Vervaeke Industrial. 
During the process, we were professionally assisted by our contact person at Vervaeke. In consultation, we opted for a black, transparent fabric. 
This way we keep enough light under our awning and both goods and employees are protected from the rain. A real win-win! 
We are pleased with our choice of Vervaeke's durable quality."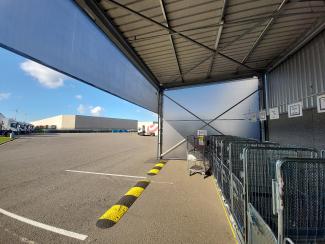 No maintenance  
The fixed sails on the awning, catch a lot of rain. This not only keeps the parcels dry, but the tarpaulins also benefit from natural cleaning. Thanks to the rain bpost does not have to maintain the tarpaulins itself. 
Interested? 
Do you also suffer from wind or rain in your shed, site or factory? If so, please have a look at our pages "repelling wind" and "repelling rain". You will also find various solutions for problems with dust, birds and viewing you will find various solutions.